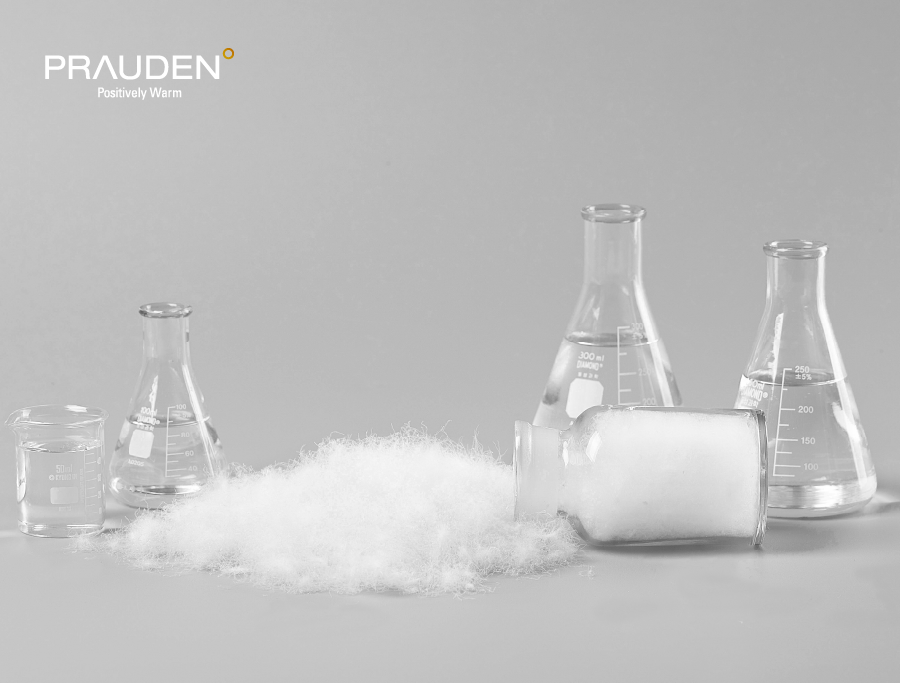 Specialty in Anti-biotic Processing – Anti-bacterial Coated Down

2021-09-24
With protracted COVID 19 pandemics, staying vigilant to hygiene has become an essential part of daily life. To build a safer environment where people can stay and work without worries, PRAUDEN has developed 'anti-bacterial coated down' coming in with special anti-biotic processing.
What are antibacterial products?
Antibacterial properties are abilities to resist germs and bacteria. Antibacterial products are chemically and/or physically processed to prevent bacterial proliferation, which are commonly found in the sportwear, innerwear, bedding, and medical supplies markets. They not only fight externally-introduced bacteria but also prevent bacterial proliferation caused by bodily waste matters introduced to the textile to keep it comfort. Removing odor from bacterial growth is another benefit.
Merits of Anti-Bacterial Down
1. 99.9% anti-bacterial effect compared to non-processed down: For 2 strains mostly widely known in the textile industry, it shows robust anti-bacterial effect, with 99.9% bacteriostatic reduction rate in 18 hours.
2. Stability: It is safe in production and use as it utilizes non-organic substances, consisting of ingredients not harmful to human body and the environments.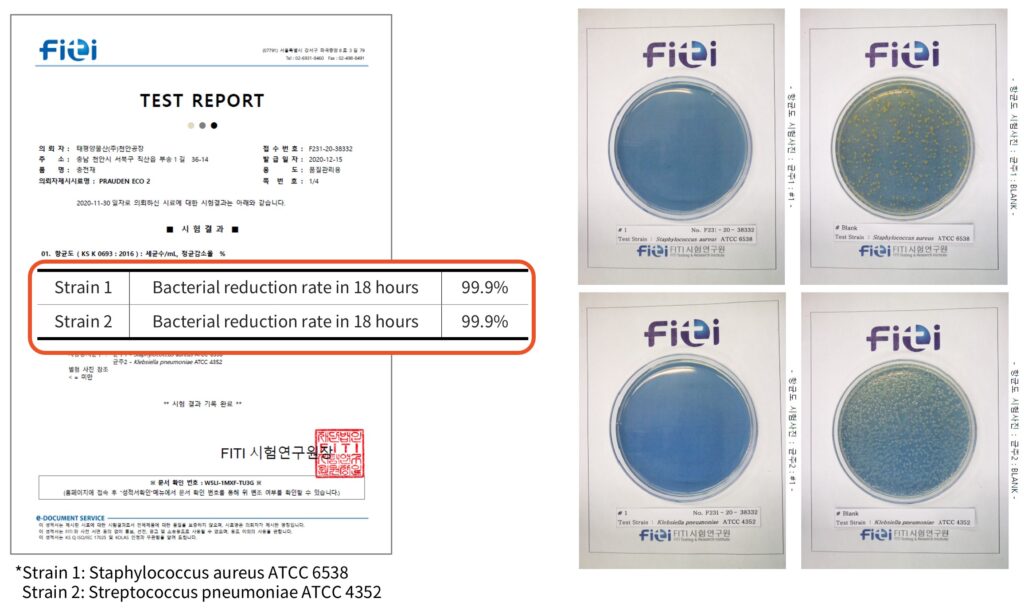 <Anti-bacterial Test Report and Photos>
Anti-Bacterial Mechanism
Inorganic metal salts and chelating agents combined in the optimal rate create 99.9% powerful anti-bacterial effect.
Fine metal particles combined with ion interfere with metabolism by pulling down and attacking bacteria. Metal ion and active oxygen generated from the ion cause variations, by destroying the membrane of bacteria and combining with certain part of protein. With serious damage in metabolism, bacteria dies.

<How Anti-Bacterial Activity Works>
Special Processing Hang Tag for Finished Products
When using anti-bacterial coated down, specialty processing hangtag can be used, together with the basic hangtag provided by PRAUDEN. With detailed introduction on the mechanism and functionality of the specialty processing, it can boost the image as a high-functional product.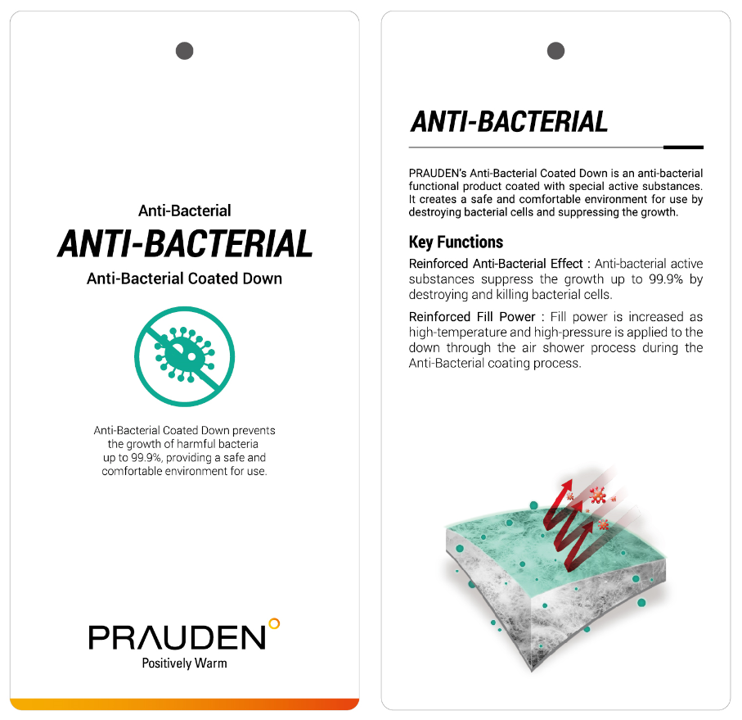 <Anti-Bacterial Coated Down Hang-tag>
You can meet anti-bacterial coated down of PRAUDEN at various brands including Kolon Sport starting from 21FW.
By Lee Sukyung, Brand Part