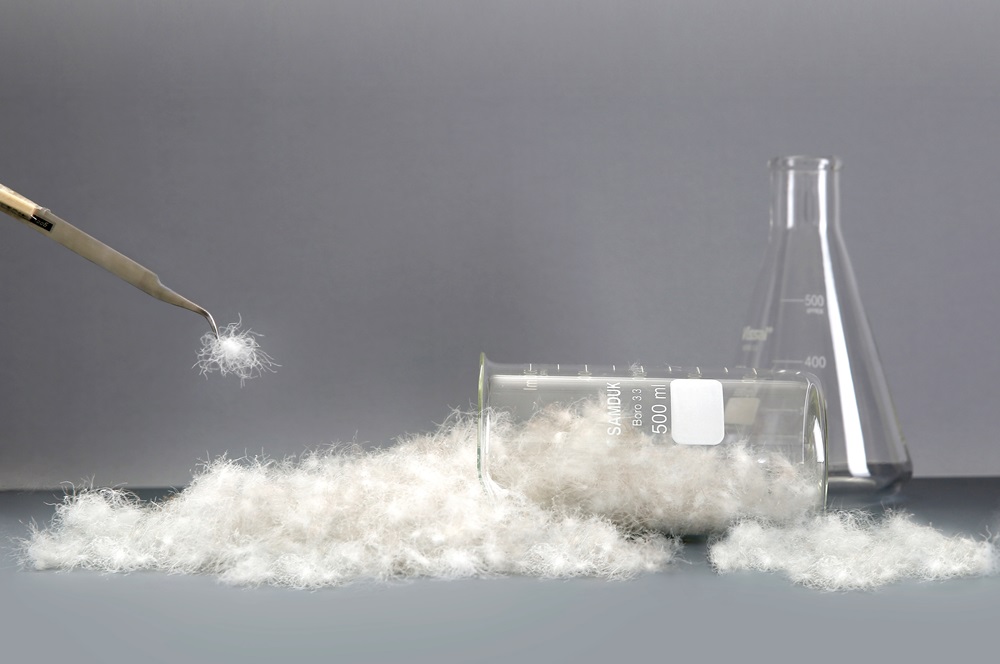 Down Quality Determining Factor 3. Species Identification

2018-09-21
PRAUDEN features articles that introduce important factors that determine the quality of the down so that consumers can make informed purchases. In this issue we are going to look at 'Species Identification'.
See Down Quality Determining Factor 1. Content
See Down Quality Determining Factor 2. Fill Power
What does 'Species Identification' mean?
Human eyes cannot tell the difference between goose down and duck down, while goose down is much more expensive than duck down. Species identification is intended to check the 'rate of goose down to duck down,' or in other words 'purity,' in a microscopic manner. Species identification is performed for, and Korean Industrial Standards (KS) regulates the rate of, goose downs only because of its greater value as feather.
Why does Species Identification matter?
Size of a goose down cluster is up to 1.5 times larger than that of a duck down, meaning that goose down features greater resilience, heat retention ability and lightness compared to duck down, which is why goose down is more expensive than duck down by the lower of 20%, up to 200% depending on market price.
Goose down and duck down are mixed up from time to time in the course of processing, which is why species identification is required to tell the difference that human eyes cannot.

<Macroscopic (Left) and Microscopic (Right) Views of Down>
Why are goose down and duck down mixed in the course of processing?
1. Down & Feather Collecting Process
Down and feather are by-products of food industries, and collected from slaughterhouses in the course of meat production. Despite varied sizes, it is common to see ducks and geese are slaughtered in the same facility because governing regulations applied to slaughtering ducks and geese are very similar to each other. With feathers floating around slaughterhouses and large volume of feathers treated in a single place, it is quite natural that duck down and goose down are mixed in the course of processing.

<Illustration of Down & Feather Lifecycle>
Regulatory authorities of many countries recognize such a process, and they standardize minimum requirements of goose species as follows:
Standard
Australia AS 2479-2007
Canada 2000
China GB/T 17685-2003
Europe EN 12934
Japan JIS
Korea KS K2620
Swiss VSB-Norm Nr.1.05
Taiwan CNS 2219 N. 1034
USA-2000
GOOSE LABEL
MINIMUM Required Goose Species
Pure Goose
NA
NA
NA
90%
NA
NA
NA
NA
NA
Goose
90%
90%
85%
70%
90%
80%
70%
90%
90%
Goose / Duck
NA
NA
NA
50%
NA
NA
NA
NA
NA
DUCK LABEL
MINIMUM Required Duck Species
Pure Duck
NA
NA
NA
90%
Duck
90%
90%
NA
70%
90%
NA
70%
NA
90%
Duck / Goose
NA
NA
NA
50%
NA
NA
NA
NA
NA
OTHER INFORMATION
Species Testing Method
AS-2479 Appendix C
CGSB-139.2 May 1986 (Government will withdraw this standard)

IDFB-12 is used in most cases
GB-10288 (China National Standard) FZ-81002(China Jacket Standard) QBT 1193-2012 (New China Bedding Standard
EN-1885 IDFB-12
JDFA
KS K 0820 : 2014-7.2
EN-1885 IDFB-12
IDFB-12
<Table 1) Minimum Requirement of Goose Species by Country>
2. Supply Model of Down
Once plucked, down and feather are supplied to processors and suppliers like PRAUDEN. These down and feather, referred to as 'raw materials,' are processed to suit the target country's regulations and the brand rules, followed by quality inspection by in-house or outside qualified testing institute and supply of qualified down.
The fact that the most influential determinant of down and feather quality is raw materials makes species identification even more important as the quality of raw materials is not controllable in the course of processing contrary to such other properties as down content and oil and fat content.
This is why PRAUDEN goes as strict as it should be in purchasing down and feather as it boasts a long-term relationship with reliable vendors, as well as runs a qualified testing institute in-house to check each and every lot of raw materials upon purchase.
Such a sophisticated process can hardly be resembled by small and medium vendors which serve as a distributor without any processing plant and testing institute ready in-house. The quality of down and feather from such a distributor is depending on the third entity that that the down product brand is not aware of, barely able to prove causality of quality problem.
Inability to prove causality of quality problem gets even more serious when it comes to those scammy vendors which intentionally increase the percentage of duck down for cost's sake, leading to losses suffered by both down product brands and end consumers ended up purchasing low-quality down products.
Note: How to Identify Species (under KS K 0820)
Potential Bias on Specimen Identification
Potential risk of 'humanly bias' from specimen identification is always latent despite exhaustively defined process and standards in the inspection manual.
1. Replacing Unidentifiable Down Clusters and Feathers
According to the KS identification method, unidentifiable down clusters and feathers must be replaced into identifiable ones that are also subject to Specimen Identification. For potential bias from differing goose-to-duck ratio, IDFB standard assumes that the specimen must be regarded as either goose feather or duck feather, whichever accounts for greater.
2. Skillfulness of Inspector
There might exist humanly bias due to differing skillfulness of identification by inspectors.
How to purchase down and feather wisely?
1. For a name brand purchasing downs
Find qualified suppliers capable of in-house processing and inspection for strict control of quality and post-purchase services.
2. For an end consumer purchasing down products
1) Check out Hang-Tag information of the down and feather supplier like PRAUDEN which intends to boast the quality of its valued raw materials in Hang-Tag. For your information, PRAUDEN runs in-house processing plants in Korea, China and Vietnam and the Korea's first IDFB-recognized Qualified Company Inspection Lab. For PRAUDEN Hang-Tag sample, visit here.
2) For imported down products, make sure you know the country of origin to recognize the standard of minimum goose species applied. For instance, goose beddings imported from some European countries may contain mere 70% of goose down according to the governing EU standard. Some imported products do not follow the Korean standard when imported. Therefore, beware.
3) When personally buying from abroad, make sure you know the country of origin, and the minimum goose species applied. These products were not produced assuming export, so make sure you check yourself the minimum goose species.
By Oh Jun-jae, R&D Part, PRAUDEN